Wind Power Lac Hoa Company Limited is the project owner of Lac Hoa Wind Power Plant (WPP) Project. Being under Master Plan Approval since October 2018, Lac Hoa WPP Project will be one of the first onshore wind power projects in Soc Trang. Wind Power Lac Hoa Company Limited brings together partners with international and local experience to successfully complete this project to the highest international standards.
The investors of Lac Hoa Wind Power Plant Project include:
UPC Renewables – a leading worldwide renewable energy developer with more than 20-year experience and over 73 renewable projects with a total 4,500MW of projects and a proven history in developing, constructing and operating projects in South-east Asia.
AC Energy – the energy platform of Ayala, one of the largest business groups in the Philippines, AC Energy is one of the fastest-growing energy companies with ~US$2 billion of invested and committed equity in renewable and thermal energy in the Philippines and around the region, as an investor and financial adviser.
Vietnam Small And Medium Enterprise Construction Investment JSC – SMEs are enterprises established by the Vietnam Association of Small and Medium Enterprises on the basis of gathering the strength and resources of the leading member enterprises of the Association. Our tảget is to best promote the potentials and advantages available for development and contribute to the Association's activities. The main development orientation of SMEs is to focus on two areas: Investing in developing renewable energy projects & Investing, building transport and irrigation infrastructure systems in Vietnam market.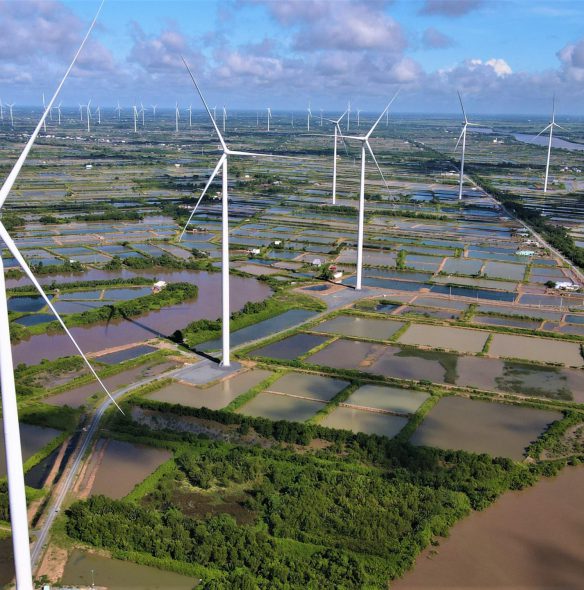 Project Brief Introduction
Lac Hoa Wind Power Plant Project, which is developed by Wind Power Lac Hoa Company Limited, is located at Position 20 as provided in Soc Trang Wind Power Development Plan, in Hoa Dong commune, Vinh Chau town, Soc Trang Province, in the Mekong Delta Region of Vietnam. The survey area of the Project is about 1,165ha. The project with a capacity of 30MW includes 6 turbines of the V150-3.8 MW model and 2 turbines of the V150-3.6 MW model.
The project will be one of the first onshore wind farms in Soc Trang and will annually contribute an average of 112.323 MWh of clean power (wind energy) to the National Grid via 110kV transmission line. By providing clean energy the project will help reduce the country's dependence on imported and environmentally damaging fuels for power generation and contributes to reducing about 102.500 tones of CO2 equivalent emissions per year.
We are committed to building projects and protecting the environment and supporting the local community.
The Project will provide local employment opportunities and promote tourism to support local economic development.
The project aims to benefit communities through Corporate Social Responsibility (CSR) activities.
NATIONAL AND INTERNATIONAL STANDARDS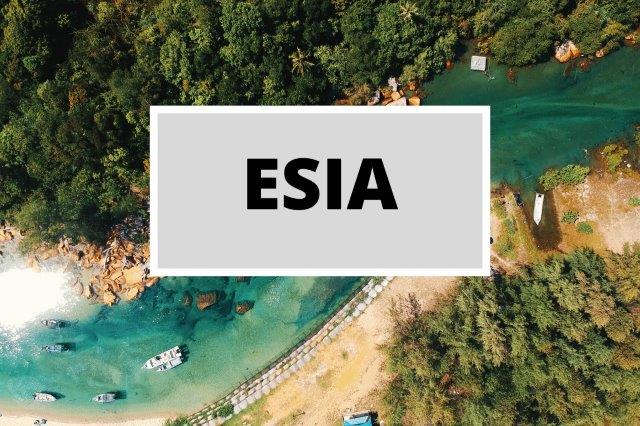 ESIA (Environmental and Social Impact Assessment) is a set of documents outlining international environmental standards as stipulated by IFC (International Finance Corporation)performance Standards and/or the World Bank Group Environmental and Social Framework (Oct 2018). The main objectives of the ESIA are to assess the environmental and social risks of a project. Furthermore, the ESIA identifies measures to avoid, minimize, mitigate, and monitor these risks.
The broad goal of this effort is to confirm compliance of the project with various environmental and social guidelines and standards, including:
Equator Principles and IFC Performance Standards.
Applicable local laws and regulations.
Other international benchmarks and standards.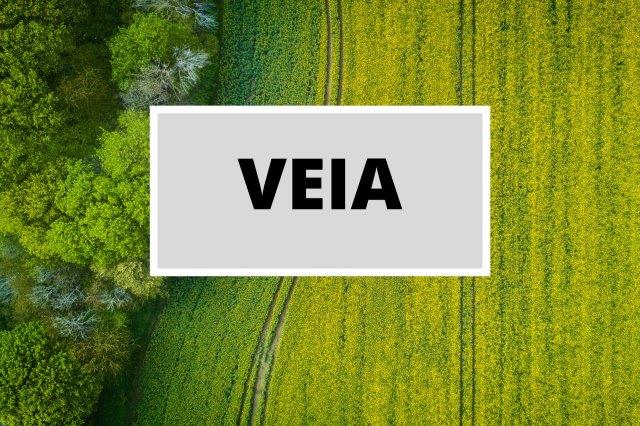 VEIA (Vietnam Environmental Impact Assessment) is a local environmental permit required by the Government to protect the environment and communities from potential environmental and social impacts during the construction and operation of the projects. In the framework of VEIA, we have forecasted and assessed the impacts of the surrounding environment and community as well as the working environment of workers during the construction and operation periods. On that basis, VEIA identifies and proposes the feasible measures to reduce, mitigate, and monitor the potential impacts specified in the VEIA report.

Gold Standard for the Global Goals is a standard that sets requirements to design projects for maximum positive impact in climate and development and to measure and report outcomes in the most credible and efficient way. Applying the GS4GG standard will help the project demonstrate its real sustainable contributions to the environment, communities, and sustainable global goals. Furthermore, with additional revenue from GS4GG certification, the project is expected to be more financially attractive to the investor.
The project is at the first steps of the GS4GG application process and planning to be registered under GS4GG at the end of 2020, and have GS carbon credits issued in 2021-2022. Lac Hoa WPP will contribute to reducing emissions of about 102.500 tones of CO2 equivalent per annum.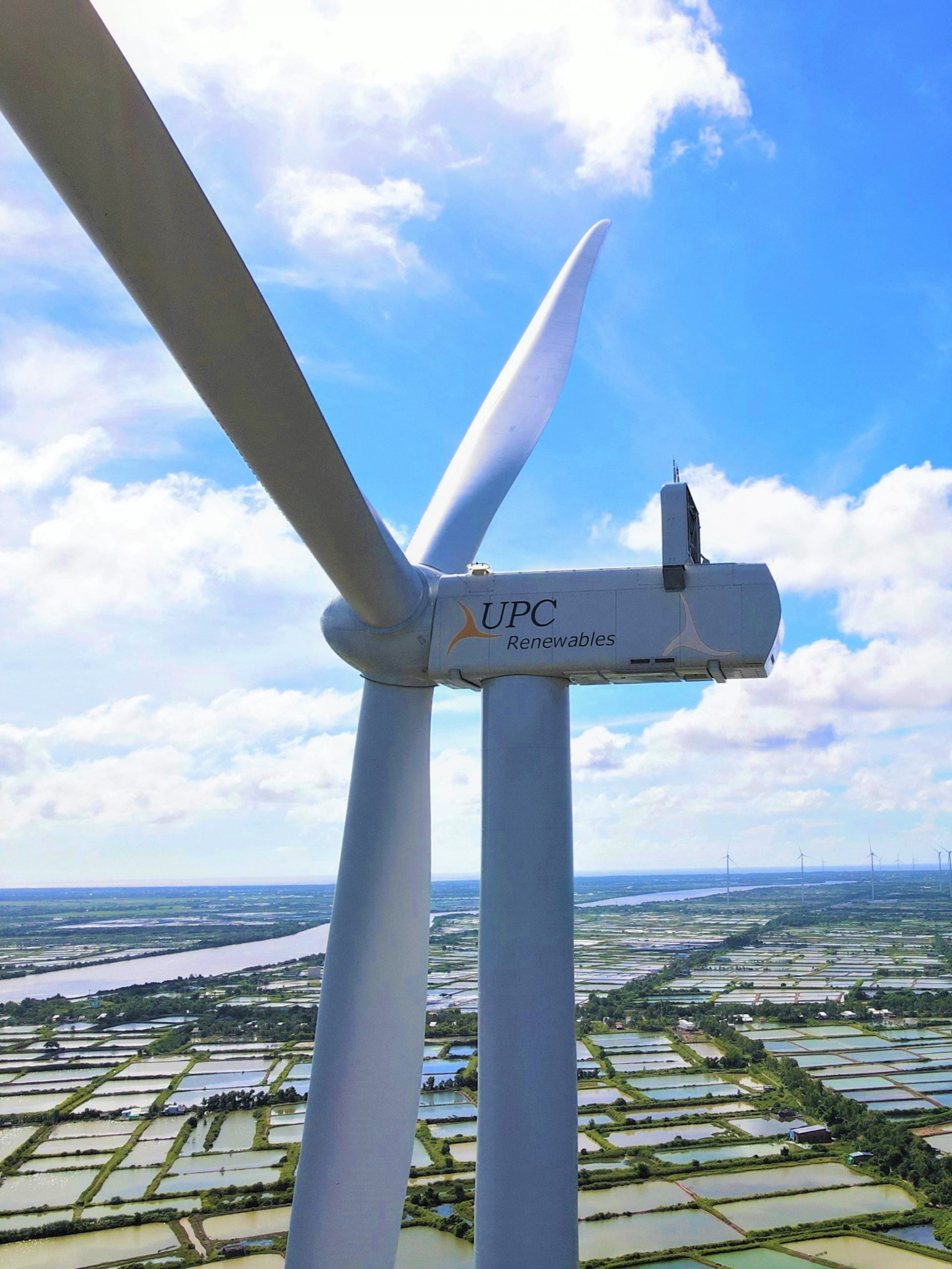 Lac Hoa Wind Power Plant will be using Wind Turbine models V150-3.8 MW and V150-3.6 MW from Vestas to generate electricity.
Vestas is the energy industry's global leader in sustainable energy solutions. With more than 40 years in the wind industry, Vestas is the most experienced wind manufacturer in the world.
Vestas designs manufacture, installs, and services wind turbines across the globe, and with over 113 GW of wind turbines in 81 countries, operating on every kind of site, from high altitude to extreme weather conditions.
The conversion of wind energy into electricity for use is carried out through the following process: Wind turbines convert the kinetic energy in the wind into mechanical power then a generator converts mechanical power into electricity.
A wind turbine consists of the following basic parts:
An anemometer measures wind and converts the result to a control system.
Blades, made of light alloy or composite material.
Brake system to reduce or stop the rotation of wind turbine blades.
Controller (of wind speed). This system automatically stops all turbine operations when the wind speed reaches maximum speed.
Gearbox system increases the rotational speed of the rotor to generate electricity.
A generator is used to generate electricity from wind turbines.
Turbine construction & installation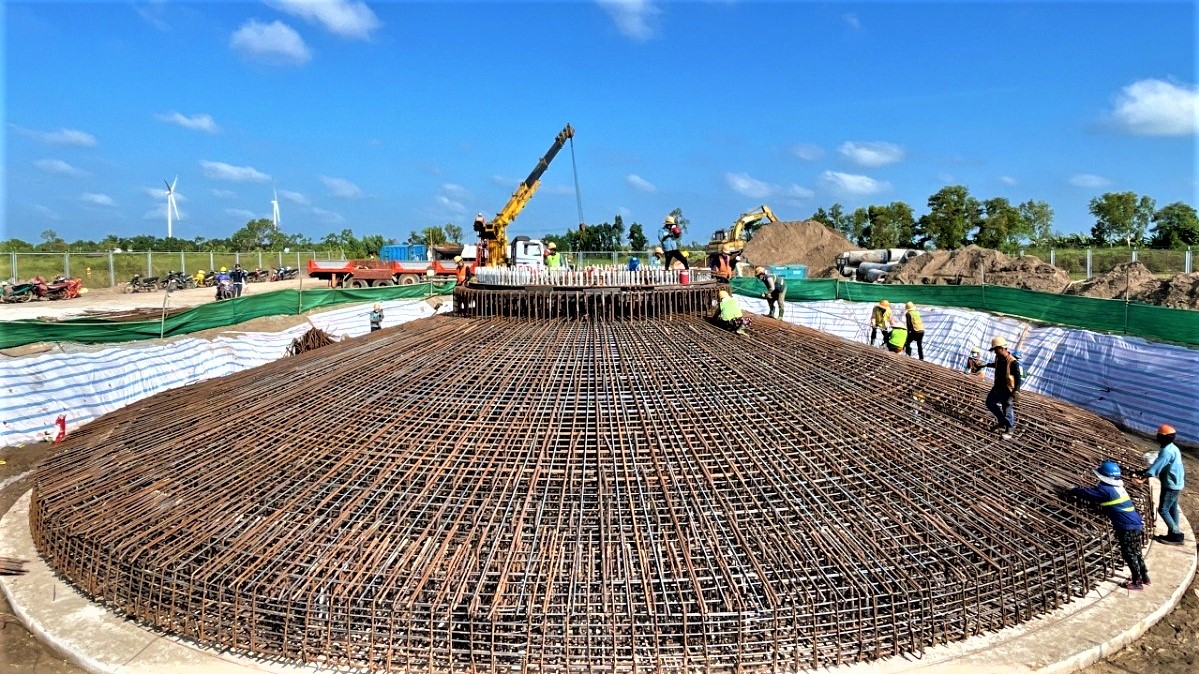 Turbine foundation construction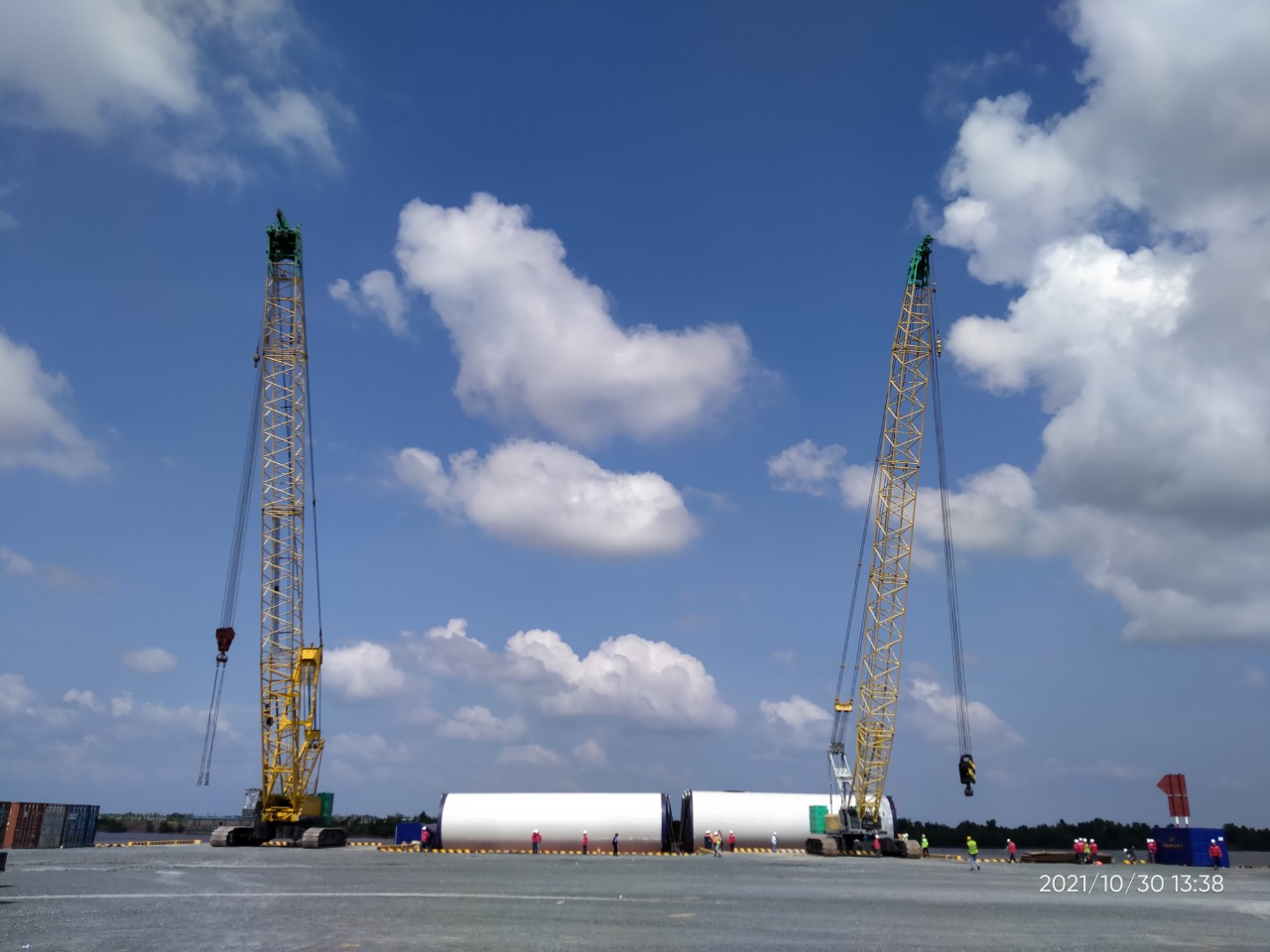 Turbine logistic at jetty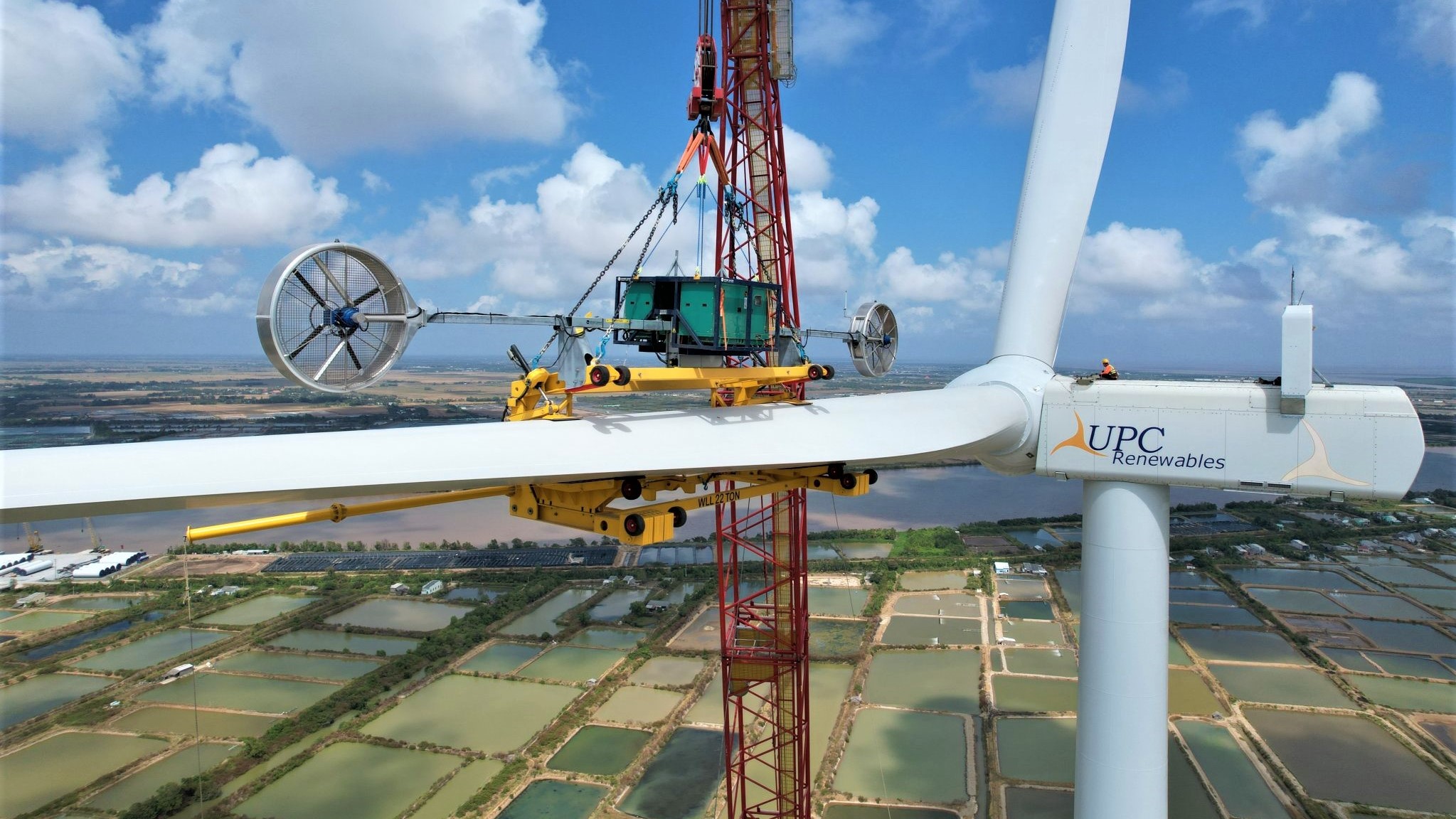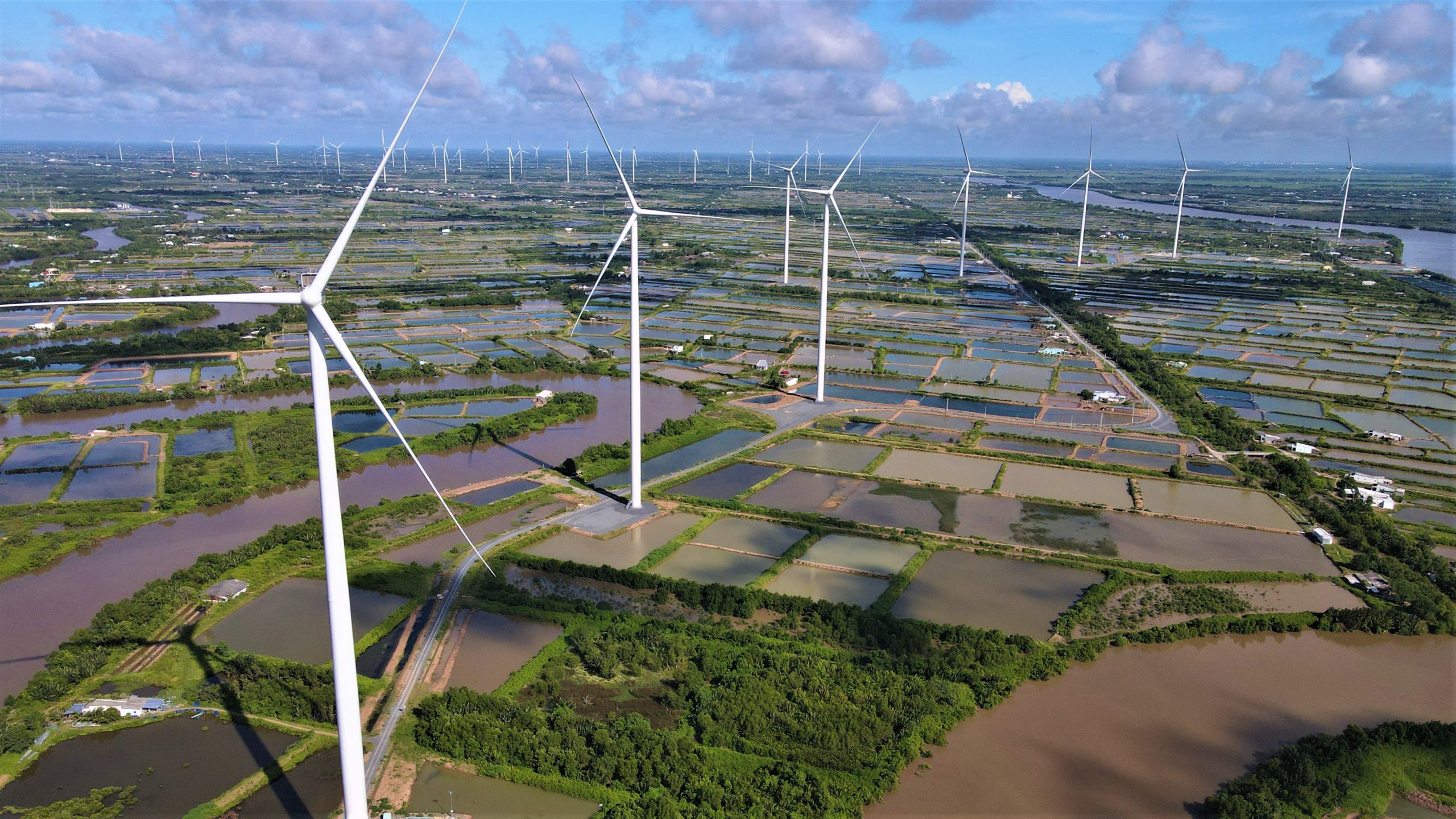 The Investor is committed to developing Wind Farms that are sensitive to the environmental impact and providing long term positive impact on local communities. We understand that we have a long-term place in Hoa Dong commune, and we work in collaboration with community leaders and other stakeholders to develop clean and safe Wind Farms that support local communities.
30 MW Wind Farm in Operation by September 2021.
80-120 Provincial jobs during construction and 8-15 jobs during operations for both Hoa Dong and Lac Hoa projects.
Generous support for local community development with Corporate Social Responsibility (CSR) projects during the construction and throughout the life of the project.
Provide access to roads constructed for the wind farm to increase access to the community.
Encouragement to develop local livelihood by Eco-Tourism.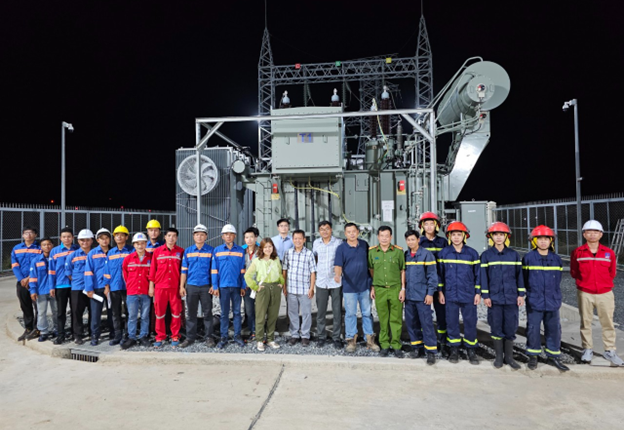 On May 14, 2023, Wind Power Lac Hoa Company Limited successfully energized the substation 110kV of Lac Hoa Wind Power Plant (WPP) Project (30 MW) in Lac Hoa Commune, Vinh…