Hoa Dong Wind Power Plant and Lac Hoa Wind Power Plant add 60MW of renewable energy in Soc Trang Province.
In May 2020, Soc Trang Province continues to receive 2 more investment projects of wind power plants with a total capacity of 60MW with a total investment of more than VND 2,047 billion in Hoa Dong commune, Khanh Hoa ward, Vinh town. Chau, Soc Trang province.
Hoa Dong Wind Power Plant and Lac Hoa Wind Power Plant have investors as Wind Power Hoa Dong Co., Ltd. and Wind Power Lac Hoa Co., Ltd., where the project is implemented at positions 19 and 20 according to Soc Trang wind power development planning. With a capacity of 30 MW of each project, each project uses 8 V150 type wind turbines (including 6 turbines with a capacity of 3.8 MW / turbine and 2 turbines with a capacity of 3.6 MW / turbine).
The two projects will be two of the first onshore wind power projects in Soc Trang Province to be constructed and put into operation, annually providing an average of 221,596 MWh of clean energy (wind power) for the National grid.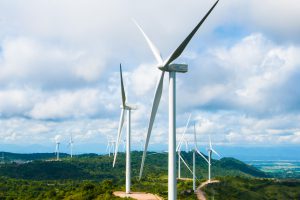 The project area is located in Hoa Dong commune, Khanh Hoa ward, Vinh Chau town, and a part of the transmission line goes through Vinh Hiep commune and Vinh Chau town. The permanent land-use area is about 10.5ha and the temporary land-use area is about 9.0ha for each project. Construction works include upgrading part of district road 41, constructing new operating routes in the project area, building a temporary port to gather equipment and materials to the project site, transformer station. pressure, operator and maintenance site, transmission line and, wind turbine posts.
With the advantage of using clean energy sources to produce electricity, without greenhouse gas emissions, without causing environmental pollution, the Hoa Dong Hydro-power Project and Lac Hoa Thermal Power Plant are built in accordance with the owner. The Government's policies in general and the Soc Trang province in particular on promoting renewable energy development, ensuring a clean and sustainable electricity supply balance for local socio-economic development. The project will also carry out the registration of the Gold Standard for Global Goals (GS4GG), which is the international set of standards for sustainable development. The registration for GS4GG certification is expected to be completed by the end of 2020 and is expected to be issued in 2021-2022. With an annual production of wind power (clean energy) of about 221,596 MWh, the two projects will contribute to reducing emissions by approximately 202,000 tCO2 equivalents per year.
The use of local labor is also one of the factors that are of interest to the Employer. It is expected that the project will create 80 – 120 job opportunities for local employees in the process of construction, manufacturing, installation, maintenance, and other support services during construction and operation.
Investors of two projects are urgently completing the necessary works to prepare ground and start construction in the near future.
The representative of the investor, Mr. Tran Duc Son – Director of the Company, said: "With the current progress and the active support of local authorities, we hope the factory will soon complete construction. and became the first onshore wind power plant to come into operation in Vinh Chau town in particular and Soc Trang province in general. "
Besides the determination in implementing the construction and completing the project on schedule, the Owner has also approached and had many active activities to support the local community such as upgrading toilets and installation. water purification equipment in schools, street lighting installations …
For any questions, please contact me directly at emails: info@diengiohoadong.com and info@diengiolachoa.com or contact Hotline: (+84) 0333 401 408.
Tran Duc Son – Director.